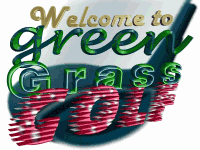 Green Grass&reg Golf On-Line !!!
Welcome to the Green Grass&reg Golf On-line Pro shop. Right now we are offering our products at low prices to suit you, the avid golfer! We currently have in stock 1,3,5 Woods as well as Iron sets and specialized putters. All golf equipment are patented and are the most unique golf clubs on the market. So please come in and take a look at our products. Each club has their own unique features that make it one of a kind. Take a look for yourself!
We shall credit handling fee US$13.95 (limited in States and the first order only, one time, from our on-line store) for our customers. Our prestige customers are those who take our free putter offering in delight. Please put your e-mail address in the order communication box. We will double check it.
---


Home

Copyright (C) 1995-2010 Green Grass&reg Golf Corp. All rights Reserved.